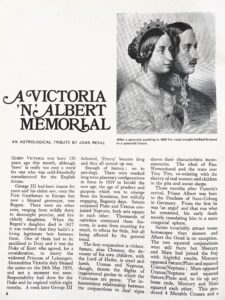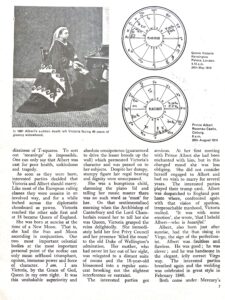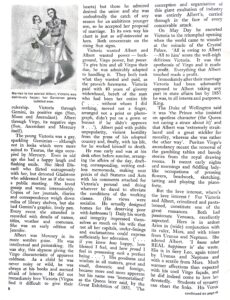 A VICTORIA 'N' ALBERT MEMORIAL
AN ASTROLOGICAL TRIBUTE BY JOAN REVILL
QUEEN VICTORIA was born 150 years ago this month, although 'born' is really too cosy a word for one who was cold-bloodedly manufactured for the English throne.
George III had been insane for years and his eldest son, once the First Gentleman in Europe but
Now a bloated grotesque, was Regent. There were six others sons, ranging from mildly dotty to downright peculiar, and five elderly daughters. When the Regent's daughter died in 1817 it was realized that they hadn't a living legitimate heir between them. One of them had to be sacrificed to Duty and it was the Duke of Kent who agreed, for a consideration, to marry the widowed Princess of Leinengen. Alexandrina Victoria duly blessed the union on the 24th May 1819, and not a moment too soon. Respectability had done for the Duke and he expired within eight months. A week later George III followed, 'Prinny' became King and they all moved up one.
Enough of history; on to astrology. There were marked long term planetary configurations in force in 1819 to herald the new age, the age of prudery and purpose which was to emerge from the licentious, but willfully engaging, Regency days. Saturn conjoined Pluto and Uranus conjoined Neptune, both sets square to each other. Thousands of nativities contained these features, in some lives counting for much, in others for little, but all being affected by the general trend.
The first conjunction is violent. Saturn, alias Chronos, the devourer of his own children, with the Lord of Hades, is cruel and harsh. Uranus and Neptune, though, denote the flights of inspirational genius to which the Victorians are prone. The inharmonious relationship between the conjunctions in dual signs shows their characteristic inconsistencies. The ideal of Pure Womanhood and the tears over Tiny Tim, co-existing with the slavery of real women and children in the pits and sweat shops.
Three months after Victoria's arrival, Prince Albert was born to the Duchess of Saxe-Coburg in Germany. From the first he was 'an angel' and that was what he remained, his early death merely translating him to a more congenial sphere.
Saints invariably attract worse horoscopes than sinners and Albert the Good is no exception. The two squared conjunctions were still there but Mercury and Mars had joined the fray with frightful results. Mercury opposed Saturn/Pluto and squared Uranus/Neptune; Mars opposed Uranus/Neptune and squared Saturn/Pluto and, to tie up any loose ends, Mercury and Mars squared each other. This produced 4 Mutable Crosses and a dizziness of T-squares. To sort out 'meanings' is impossible. One can only say that Albert was cast for poor health, unkindness and tragedy.
As soon as they were born, interested parties decided that Victoria and Albert should marry. Like most of the European ruling classes they were cousins in an involved way, and for a while inched across the diplomatic chessboard as pawns. Victoria reached the others side first and at 18 became Queen of England.
She was born at sunrise at the time of a New Moon. That is, she had the Sun and Moon ascending in conjunction. Our two most important celestial bodies at the most important personal point of the zodiac can only mean selfhood triumphant, egoism, immense power and force of character. I am Victoria by the Grace of God, Queen in my own right. It was this unshakable superiority and absolute omnipotence (guaranteed to drive the lesser breeds up the wall) which permeated Victoria's character and was passed on to her subjects. Despite her dumpy, stumpy figure her regal bearing and dignity were unsurpassed.
She was a bumptious child, slamming the piano lid and telling her music master there was no such word as 'must' for her. On that sentimentalized morning when the Archbishop of Canterbury and the Lord Chamberlain roused her to tell her she reins delightedly. She immediately held her first Privy Council and her presence 'filled the room' to the old Duke of Wellington's admiration. Her mother, who had never let her out of her sight, was relegated to a distant suite of rooms and the 18- year-old blossomed into a regular auto-craft brooking not the slightest interference or restraint.
The interested parties got anxious.
At her first meeting with Prince Albert she had been enchanted with him, but in this changed mood she was less obliging. She did not consider herself engaged to Albert and had no wish to marry for several years. The interested parties played their trump card. Albert was dispatched to England post haste where, confronted again with that vision of spotless, irreproachable manhood, Victoria melted. 'It was with some emotion', she wrote, that I beheld Albert—who is beautiful.'
Albert, also born just after sunrise, had the Sun rising in Virgo, the sign of the perfectionist. Albert was faultless and flawless. He was good; he was clever; and he was handsome in the elegant, icily correct Virgo way. The interested parties breathed again and the wedding was celebrated in great style in February 1840. Both come under Mercury's rulership. Victoria through Gemini, its positive sign (sun, Moon and Ascendant). Albert through Virgo, its negative sign (Sun, Ascendant and mercury itself).
The young Victoria was a gay, sparkling Geminian -although not in looks which were more suited to Taurus, the sign occupied by Mercury. Even in old age she had a happy laugh and flashing smile. She liked Disraeli who flirted outrageously with her, but detested Gladstone who addressed her as if she were a public meeting. She loved gossip and wrote interminably. Copies of her journals, diaries and correspondence weight down miles library shelves, but she had Gemini's graphic, lively pen. Every event she attended is recorded with details of names, titles, weather and costumes. She was an early edition of Jenifer.
Albert was Mercury in its more somber guise. He was intellectual and painstaking. He was shy, this shyness giving the Virgo characteristic of apparent coldness. As a child he was never noisy or wild, he was always at his books and seemed afraid of leisure. He did not immediately love Victoria (Virgos find it difficult to give their hearts) but those he admired desired the union and she was undoubtedly the catch of any season for an ambitious younger son, so he accepted her proposal of marriage. In its own way his chart is just as self-interested as hers. Both concentrate on the rising Sun signs.
Victoria wanted Albert and Albert wanted power- back- ground, Virgo power, but power. To give him and all Virgos their due, he was admirably adapted to handling it. They both took what they wanted and paid, as the proverb forewarns. Victoria paid with 40 years of gloomy widowhood, bereft of the man who had been her entire life ('. . .without whom I did nothing, moved not a finger, arranged not a print or photo graph, didn't put on a gown or bonnet if he didn't approve it . . .'). Albert paid with public unpopularity, violent hostility from the press of his adopted country and, finally, with his life, for he worked himself to death.
He rose early and was at his desk often before sunrise, arranging the affairs of the day, drafting, corresponding, writing endless memoranda, making neat précis of dull statutes and Acts with his comments attached for Victoria's perusal and doing whatever he dared to alleviate the conditions of the working classes. (His views were socialist. He actually designed homes for the deserving poor with bathrooms!) Daily his worth and integrity impressed themselves so much on his wife that not all her capitals, under-linings and exclamations could express sufficiently her adoration. ('. . . if you knew her happy, how blessed I feel, and how proud I feel in possessing such a perfect being . . . ') His goodness and wisdom in all matters, great and small, domestic and foreign, became more and more apparent but his name was 'immortalized' as the queen later said, by the Great Exhibition of 1851. The conception and organization of this giant exultation of industry was entirely Albert's carried through in the face of every conceivable attack.
On May Day he escorted Victoria to the triumphal opening when the world came to wonder at the miracle of the Crystal Palace, 'All is owing to Albert – All to him' wrote the well – night delirious Victoria. It was the apotheosis of Virgo and it made a profit.
Immediately after their marriage Victoria had been adamantly opposed to Albert taking any part of state affairs but by 1851 he was, to all intents and purposes, King.
The Duke of Wellington said it was 'the prince who insisted on spotless character (the Queen not caring a straw about it)' and that Albert was' extremely straitlaced and a great stickler for morality, whereas she was rather the other way'. Puritan Virgo's ascendency meant the removal of the gambling tables and bawdy stories from the royal drawing rooms. It meant early nights and mornings and fiddling lady like occupations of pressing flowers, beadwork, sketching, tatting and playing the piano forte.
But the love interest, where's the love interest? For Victoria and Albert, crinolined and pantalooned, constitute one of the great romances. Both had passionate Venuses, excellently aspected. Hers is in ardent Aries in (wide) conjunction with trines from Uranus and Neptune. She adored Albert. 'I know what REAL happiness is' she wrote. His is in fiery Leo, again trined by Uranus and Neptune and with a sextile from Mars. Much warmer affections than expected with his cool Virgo façade, and he indeed come to love her devotedly.
To find out more about Royal astrological connections, check out https://www.crystalclearpsychics.co.uk/horoscopes/western-horoscopes or call 0207 553 5000.